"Mt. Everest Cleanup Campaign 2019" Concluded
05 Jun 2019
---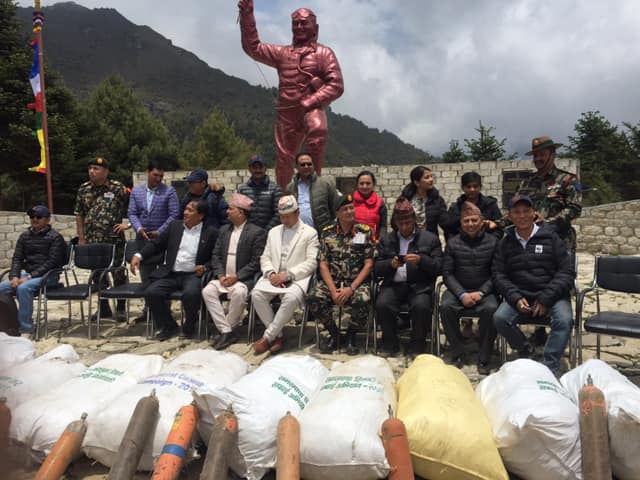 The "Mt. Everest Clean-Up Campaign 2019" is the first joint cleanup initiative made to retrieve discarded garbage and dead bodies from Mt. Everest. Themed "Clean Our Pride", the campaign aimed to preserve the sanctity of the world's highest mountain and keep it pristine. The campaign was jointly organized in collaboration with various government bodies, private sectors, and various NGOs, along with international corporation.
The 45 days long campaign targeted to remove 10 tons of waste (5 tons wastes from Mt. Everest and 5 tons of wastes from its foothills). The weekly campaigns in settlements started on 14th of April from Lukla and the campaign on Mt. Everest began at the end of April. The campaign continued till the end of May. A sharing and monitoring event was conducted at Namche on 27th May followed by a garbage handover ceremony at Kathmandu on 5th June on the occasion of World Environment Day concluding the campaign.
The campaign collected a total of 10,368 kgs garbage (580 kgs were collected from South Cole (Camp IV), 300 kgs from Camp III, 1,376 kgs from Camp II, 512 kgs from Camp I, 1,924 kgs garbage from old Khumbu Icefall route, 1,450 kgs garbage from Everest Base Camp and 4,244 kgs garbage from various settlements. The garbage collected from the campaign was segregated into various categories and treated accordingly. The clean-up campaign retrieved four dead bodies of climbers from Mt. Everest: two from Khumbu Icefall section and another two from Camp II.